Porsche Business Improvement
By PJ Stevens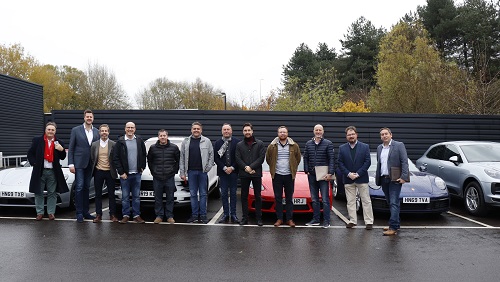 We organised a day for a dozen local business owners (£5-£100million) to help them to Connect,
Share and Learn from each other, primarily around their business lifecycle and their challenges and
opportunities.
The day was by Invitation Only, and held at Porsche Portsmouth in the Board Room, and comprised a
robust business discussion and further facilitated conversations around the Life Cycle of the Business
Owner and conflicts that can arise between this and the Business Lifecycle.
After the insightful business session, guests were invited to choose from a range of new Porsche cars
to drive to a wonderful venue for light lunch and further debate. Danebury hosted an excellent lunch
in their Stable block and afforded the group a tour of the Wine Cellar.
The drive time offered guests a chance to connect more closely with one another and experience the
fantastic cars. Luckily, BIN's PJ Stevens found himself in a new 911 C4S for a spirited trip and
insightful conversation with a business leader about Evolution vs Innovation, inspired by the Porsche
911.
Portsmouth Porsche hosted the day. Simon Priest commented, ''We were delighted to host the
Business Improvement Network and support business leaders on their journey. Porsche believe in
shaping the future of cars and business with enthusiasm and conviction, which is akin to the BIN
philosophy. Indeed our CEO, Oliver Blume, is keen to help businesses learn together, creating an
innovation culture and accelerating development through shared knowledge and talent''
BIN believes that the change journey and life cycle of Automotive products and brands offers many
learning insights for business owners, none so useful as the current change to electric power. This
change has not been without challenges and conflicts, many of which are overcome through
people's determination and brilliance. The group of business leaders discussed the importance of
Purpose in their business, indeed PJ Stevens noted that 'Technology might offer us the How in
change, but people give us the overwhelming Why.''
Raoul Perfitt, Managing Director of Herb UK, commended PJ Stevens, "The day PJ organised at
Porsche was excellent, great mix of business owners, entrepreneurs and professional services.
Perfect opportunity to network, share issues and making connections. From the day we have
already set up a meeting with a local business to discuss recycling and reusing plastic bottles."
The Business Improvement Network was set up to help improve business and businesses. Join us if
you want to Connect, Learn and Share in the business improvement space. We offer business
sessions for Business Owners and Leaders, Open Space workshops for project groups, mixed groups
and business teams, and business consulting and coaching to support your Business improvement
journey.
We believe there has never been a more exciting time to be in business. Yes, there are distractions,
there always will be, but there are a great many opportunities to improve and develop business.
Tapping into the wealth of knowledge and creativity that exits in our network can help you
transform business.
Join the BIN movement today, free, and start to Connect, Share and Learn.
About the author
PJ Stevens is an expert in organisational change, performance and improvement, with 20 years experience. He is chair of the business improvement network.
Enjoyed reading these articles?
Have you got something you can share with the Network. Why not submit an article