Solution To The Skills Shortage
By James Sopwith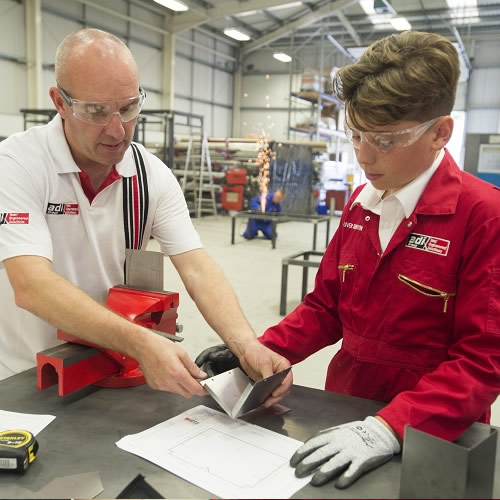 Much has been and continues to be said and written about the industry-wide skills shortage gripping numerous sectors in the UK, from Manufacturing and Accountancy, through to IT and Digital.
In fact, a survey conducted by the Confederation of British Industry (CBI), paints a worrying picture for the future workforce and the ever-growing skills gap, with 69% of UK businesses stipulating that they are concerned that there won't be enough suitably qualified people to fill their workforce in the future.
But what action can businesses take to be "future-ready" and to combat the growing shortage of skilled employees in their sectors?
One company leading the way is the Birmingham based engineering solutions firm, adi Group, who launched a Pre-Apprenticeship Programme in September 2016 in partnership with a local Bromsgrove based school.
James Sopwith, adi Group Strategic Account Director, explains how the Pre-Apprentice concept came about, how it works and the benefits the firm has experienced from the scheme.
The Challenge – Making Tomorrow's Engineers
adi Group has operated in the engineering and manufacturing sector since 1990 and currently employs a workforce of 550 staff across the UK and Ireland. Having quadrupled in size over the last ten years and on course to double in size again by 2020, as a company, we've had to strategically rethink not only how we can sustain the growth of our business, but also, how we will attract new members of staff to support this level of growth.
As many will already be aware, engineering and manufacturing companies in particular are being hit hard by the skills shortage in the UK. According to Engineering UK's 2016 report, 5.4m people in the UK work in manufacturing and engineering, delivering over 27% of the UK's GDP. To fulfil new roles within the sector, 180,000 people with engineering skills need to be trained and qualified each year. Whilst Apprenticeships are helping our sector meet this demand, there is still a shortfall of over 30,000 engineers each year.
As a business, adi is really passionate about supporting the next generation, and through work with a number of school partners via Business In The Community saw that more needed to be done to give young people a real insight into the world of engineering and the types of opportunities it can lead to.
We're fighting the age-old stereotype that engineering is dirty career, but when you start to drill down and pull out real world examples of engineering to students of all ages, from fashion to the music industry, to the phones they hold in their hands and the apps they use every day, they start to realise that engineering is in fact all around them.
The Solution – The UK's First Pre-Apprenticeship Programme
To help provide a gateway into the world of engineering, the Group launched an EAL accredited engineering 'pre-apprenticeship' scheme for 14 to 16 year-olds, as a way to familiarise more young people into the world of engineering. The scheme links together industry and education to show school age children the benefits of engineering and present it as a viable career option.
Designed to support progression onto full apprenticeship schemes upon completion, the scheme is set out over two years and makes up 10% of the school curriculum. Students get the chance to work in our live workshops where they learn about the practical and theoretical skills needed to make a career in mechanical and electrical engineering.
Our students get to learn all about making components using hand tools, communicating technical information, cutting/bending/forming and welding various materials and assembling electrical circuits and wiring control panels.
The Benefits
What's great about the pre-apprentice scheme concept is that a similar schemes could be replicated within other sectors as well. It's not just for engineering firms or manufacturing companies. It could offer other businesses a way to attract and build a pipeline of future talent and loyal recruits for years to come.
We've also seen our own workforce become more engaged as a result of such schemes – in fact a number of our employees act as mentors on the scheme which helps them gain new skills and confidence as part of their own personal development.
The Future
We have another twelve students joining our programme in September bringing our contingent up to 24 students, but our vision is to inspire and equip thousands of young men and women into the workplace through similar schemes.
About the author
James is a degree qualified Mechanical engineer and has been in the industrial engineering sector for over 25 years. He is Group Director of the adi Group, and sits on the board of directors at the Midlands Aerospace Alliance (MAA).
Enjoyed reading these articles?
Have you got something you can share with the Network. Why not submit an article