Highly Engaging Quality Culture - Part 2
By Mustafa A Ghaleiw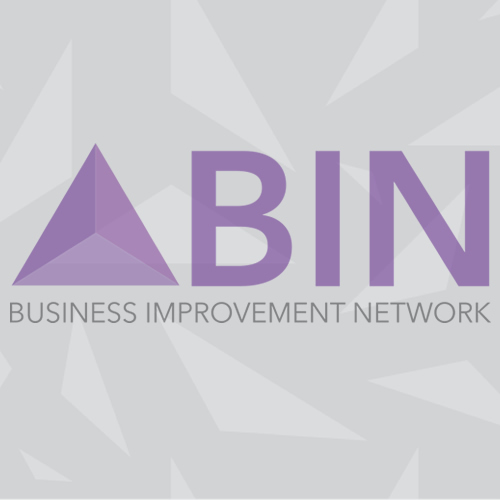 How Can Leaders Assure Continuous Employee Engagement that Strengthens the Desired Vibrant Quality Culture?
Smart leaders recognize the importance of "employee engagement" that strengthens the desired vibrant culture, because it results in a highly motivated, self-aware, self-developing, continuously improving, creative, innovative, proactive and productive workforce [3]. Gallup study conducted in 2012 [8] confirmed that engaged employees go above and beyond expectations to invest extra time, effort, and thinking into their work. They continuously learn, seek innovative solutions, produce better quality work, identify opportunities, and recognize potential risks.
But what does employee engagement mean? How can it happen? How can it be maintained and enhanced? What causes employees disengagement from their daily work and the jobs that they like?
So we will try to answer these important questions as follows:
Employee engagement is the extent to which employees are proud to work for their company, identify with and inspired by its values and goals and commit energy and creativity to its sustained success.
The Quality Management expert David Hoyle [9] says that: "we can use the analogy of a gear box of a power train to explain the meaning of engaged employee, although it is not intended to imply that employees are expected to behave as if they were parts of a machine. When gears mesh, they all move together, but when gears are disengaged, they do not move the other adjacent gears or if they are weakly connected, they might create drag through friction and cause the power train to slow down. Thus the engaged employee's thinking move in the same direction and at the same pace as their leaders."
Employee engagement is a measurable degree of an employee's positive or negative emotional attachment to their job, colleagues and organization that profoundly influences their willingness to learn and perform at work. It can be seen as a combination of commitment to the organization and its values and a willingness to help out colleagues (organizational citizenship).
It goes beyond job satisfaction and it's more than involvement, because involvement is just one of the elements that affect either positively or negatively the level of employee engagement, e.g. if people have not been involved in a management decision that directly affect their jobs, they would be frustrated and that would reduce their engagement level, but in other cases, they may not be involved in a certain improvement project/initiative, because may be they are already busy with other activity or task, so their lack of involvement here would not affect their engagement.
Emotionally engaged individuals will see their occupation as being fulfilling and genuinely contributing to the purpose of the organization. "Meaning" is the term that best defines emotional commitment and is the essence behind long-term retention.
An employee's willingness to go "above and beyond" the call of duty such as helping others with heavy workloads, volunteering for additional work duties and looking for ways to perform their jobs more effectively. This would result in higher productivity, better quality and superior customer service, which together shape the highly engaging quality culture.
Engaged employees care about the future of the company and they invest extra effort to see that it succeeds, but …
Why should managers and workers care about engagement?
Because
A high engagement workplace is one in which people want to work and want to be highly involved because self-interest and organizational interest are closely aligned.
Workplaces in which employees have a high level of self-interest invested in the organization's success will be highly productive. This fact is supported by research.
High levels of employee engagement lead to lower turnover rates, since there is a close link between company image and individual self-image in highly engaging workplaces.
Extensive research done around the world revealed that there is a high correlation between innovation and workplaces with high levels of engagement (Gallup Reveals the Formula for Innovation, 2007).
And here is what engaged individuals look like and how they add value throughout the organization:
The typical engaged employee:
Shares common values and inspired by the company's vision[10],
Integrates the firm's mission into his / her own,
Is competent, dependable, eager to learn and grow in his job, and very conscious about the quality of his deliverables.
Is devoted and committed to "go the extra mile" to complete a task,
Is honest, sincere, focused and secure,
His initiative is high and always willing to share his experience with his colleagues,
His energy and passion for his job is very clear,
Asks for feedback and gives only constructive feedback to others,
Managing his time efficiently and very productive.
However at the opposite side, actively disengaged employees erode an organization's bottom line, while breaking the spirits of colleagues in the process, because they become disgruntled; feel outcast and inferior and have a low self-esteem. Therefore they would not focus on their jobs.
The job would become just a tick in the box exercise for them mainly to get the pay check at the end of each month until they find a way out for another one. Therefore, if we really want to create and maintain the desired engaging vibrant quality culture, the company leaders need to reduce the negative effect of actively disengaged employees by creating and maintaining an engaging, enjoyable and healthy working environment.
Line Managers, who focus on the negative aspects of employee performance, micromanage their employees, disrespect them, hide information or seek only to boost their own status at any cost, would only create disengaged, dissatisfied and disgruntled employees [5].
Both of these cases are presented in more details in what we call "Employee Engagement Model" shown herein under. This model has been inspired by Marlene Chism's engagement model [4]. It is not created for measurement purposes, but rather a good indicator to realize the level of employee engagement from his / her own attitude and behaviour while executing the daily tasks and activities and while interacting with other stakeholders from the very first day he / she joins the company.
So as explained by Marlene Chism in her book No-Drama Leadership: (How Enlightened Leaders Transform Culture in the Workplace):
"If a person is showing up for work every morning, there is at least a baseline of interest. When someone is a model employee with regard to attendance, appearance, and work product, he/she has a higher level of interest in keeping and performing a good job. Now move to the right side of the model (see figure 2 below) and you will notice better engagement level. Initiative happens when an employee shares an idea or does something without being asked. Initiative is about using more mind-energy to do something that benefits the company. Then move another step to the right and see higher level of engagement. Now the employee has put some heart, mind and soul into his/her initiative and is fully engaged. This might show up as being a chair of a committee or asking to be mentored or volunteering to mentor someone else … etc."
"However when we look at the left side of the model, we see only negative engagement i.e. engagement in the wrong direction. Because when people are not respected, their needs are ignored and they are treated as machines, cogs in the wheel and when they themselves do not have a vision or a purpose, when they become unexcited and lack initiative, and when they are not involved by their leaders, their engagement is flowing in the negative direction which usually results in creating a very negative working environment hence the undesired unhelpful organizational culture is created". This is exactly not what any enlightened leader wants to happen in his organization.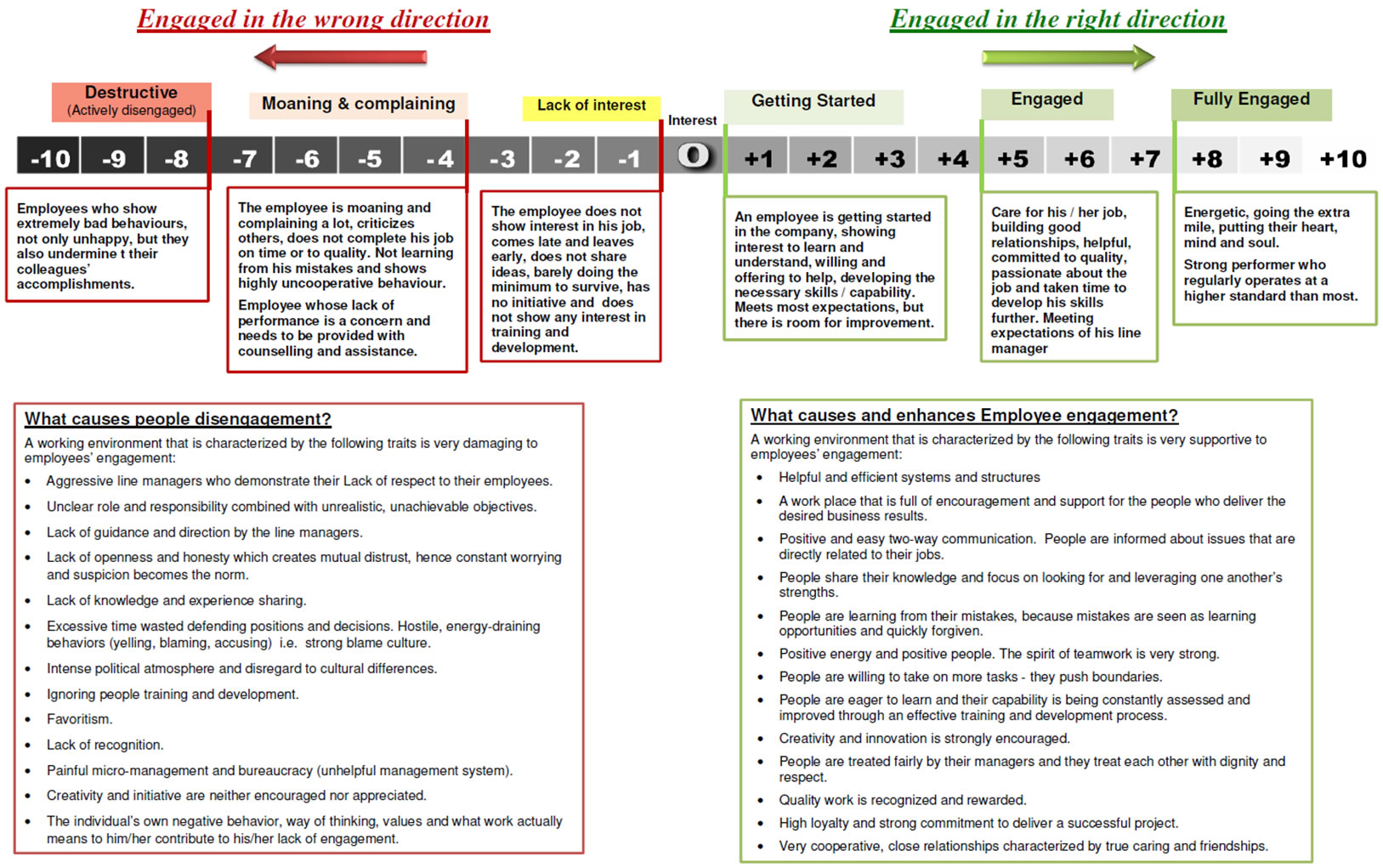 Figure 2 Employee Engagement Model.
Case Study: An Attractive, Distinguished, and Engaging Workplace
The Gas to Liquids (GTL) Asset located in the industrial city of Ras Laffan in Qatar is the largest one of its kind. Because of its vast scale and complexity, its operator needed to develop a vibrant organizational culture based on engaging values and principles in order to achieve an outstanding and sustainable performance.
The desired level of performance requires competent, efficient, well-trained, and well-led employees. Those employees have diverse cultural backgrounds, and come from different parts of the world. There was a real challenge to have them work together towards a common goal to "deliver safe and reliable production every day", one of the plant mottos.
So the leaders of the GTL plant operator company defined six cultural traits (known Pride in Production (PiP) Behaviors), namely
Openness and Honesty,
Empowerment and Ownership,
Passion and Energy
Learning from experience,
Leadership at all levels and
Being Connected and Valued
These cultural traits are actually about how people work together to create an environment where individuals thrive and where teams perform to their full potential in order to deliver excellent results.
The operator company's senior managers articulated a description for each of these organizational culture traits and created symbols for each of them. The six traits, their meaning and their application were rolled out to all staff at all levels including the contractors through numerous workshops sponsored and directed by the company's leadership team.
The rollout program started during the commissioning stage of the plant in January 2011 and continued for one year.
A carefully selected team of trained PiP coaches was established to support and guide all senior managers, department managers and frontline employees on the meaning and daily application of the PiP behaviors; that was done with the conviction that they would create a great place to work leading to the desired outcome – "an organization that sustainably delivers outstanding performance".
A process of Reward and Recognition was established and effectively implemented in parallel to rolling out the PiP behaviors.
The culture creation process which was kicked off in the beginning of 2011 proved to be very successful. The company not only met its production goals in December 2014 - but it also did it safely and efficiently.
The company reached 30 million hours without a Lost Time Injury (LTI) , with zero product nonconformity, with the best environmental performance since the startup of the plant and achieved ISO 14001 certification for its management system. Such a great performance makes the company people proud of what they do every single day*.
(* used by consent from Qatar Shell GTL Ltd.)
How can each individual contribute to creating and maintaining the desired engaging quality culture?
Through his / her role each individual in the company can contribute to creating and maintaining the desired engaging quality culture by making sure that his/her behaviours are aligned with the desired cultural traits. Such a personal pledge can greatly help:
I will be committed to do the following:
study the meaning of each of the cultural traits to realize their importance in creating and maintaining a highly effective and productive organizational culture;
understand what is expected from him/her by developing a clear objectives and targets with my line manager and be committed to deliver on his / her promises;
to develop a meaningful development plan that is aligned with my company's objectives and attend the training that improves my skills and knowledge
Apply the knowledge and skills I gain from training course(s) in my daily activities and tasks
well-represent his / her department whenever interacting with other stakeholders, and
be a behaviours role model by demonstrating the following on a daily basis with everyone:

I do not compete with my colleagues; I cooperate with them
I do not find faults with my colleagues; I help them
I do not criticize my colleagues; I support them
I do not lie to my colleagues; I'm open and honest with them
I do not ridicule my colleagues; I respect them
I do not label my colleagues; I accept them as they are
I do not to hide things from my colleagues; I share my knowledge & experience with them
I do not to negatively challenge my colleagues; I synergize with them
I do not "just do my part"; I collaborate with them
CONCLUSION
People who operate the oil and natural-gas processing facilities in the Middle East work long hard hours in tough arid environment particularly in the long summer months in continuous day shifts and night shifts. Their line managers should demonstrate that they care about their well-being by establishing and maintaining a healthy working environment in which they can be able to perform and deliver effectively.
They should never be treated like replaceable parts as that would definitely disengage them from their work, hinder their productivity, lower their morale, inhibit their initiative, prevent their cooperation, create an environment of suspicion and distrust and increase the risk of fatal incidents, because they would not be able to perform at their best.
All the research done on organizational cultures and employees engagement during the last 2-3 decades confirmed that engaged employees go above and beyond expectations to invest extra time, effort, and thinking into their work. They continuously learn, seek innovative solutions, produce better quality work, identify opportunities, and recognize potential risks. However that did not happen by chance. It needed a lot of time, investment, training and strong and committed leadership, but the results showed that they worth the effort.
The process of establishing and maintaining an engaging quality culture is a "top-bottom" one, sponsored and led by the senior managers. However it can never and will never be successful without input from everyone in the organization. The two together (i.e. the leadership team and the rest of the workforce) are what make it a successful journey.
Download the paper (with Appendices)
About the author
Mustafa A. Ghaleiw
Enjoyed reading these articles?
Have you got something you can share with the Network. Why not submit an article